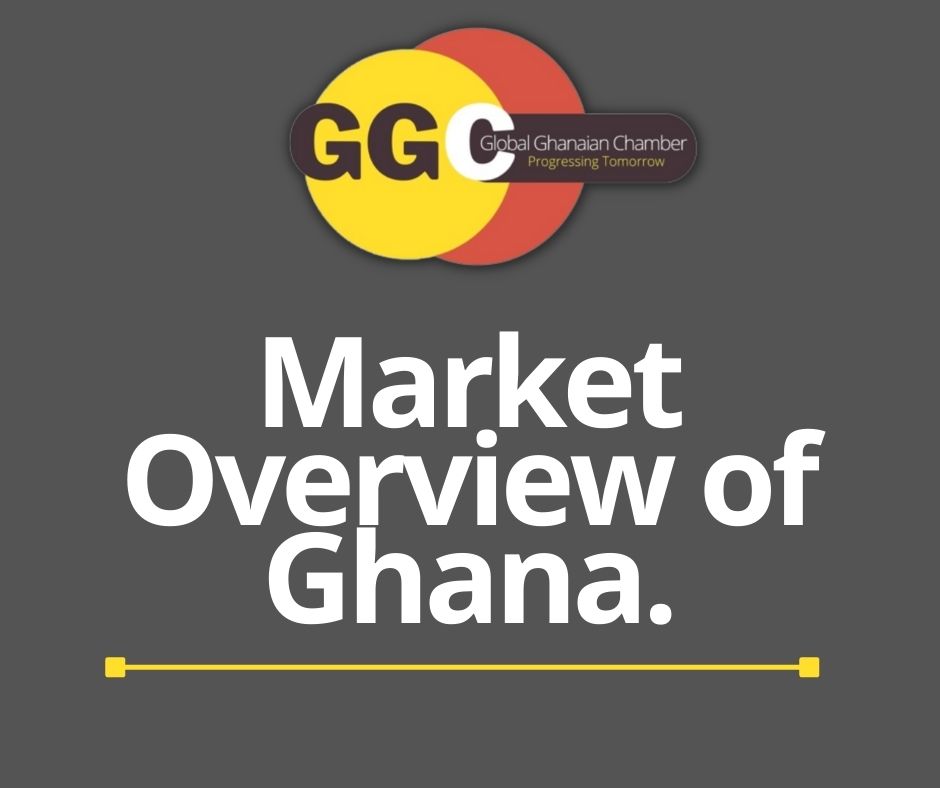 Market Overview of Ghana
Ghana has 31 million citizens, the majority of whom are youthful, linked to the rest of the world, and fast-growing. Many Ghanaians have close ties to the United States on a personal or professional level and strongly prefer American products and technology. The third-largest market for American exports to Sub-Saharan Africa is Ghana. Ghana's technology, financial services, education, and franchising sectors are expanding quickly in addition to its core industries of agriculture, mining, and most recently, oil and gas extraction.
The expanding infrastructure of Ghana's ports, highways, rail, and tourism industry provides prospects for U.S. businesses. Ghana is a fantastic location for conducting business in Africa thanks to its Atlantic ports and frequent direct flights from the United States. The new African Continental Free Trade is being held here. Area Secretariat, Ghana is an excellent starting point because it is at the center of Africa's transformational regional integration.
Accra, the capital of the nation, is a thriving metropolis with a population of about two million. Another significant population center and a bustling economic hub with nearly the same population is Kumasi, the capital of the Ashanti Region to the north of Accra.
Currently, United and Delta both offer frequent flights to Accra from Washington, Dulles, and New York, JFK, respectively (IAD). International airport Kotoka is the entry point for travelers flying into Accra. It is advisable for business visitors to inquire with Ghanaian authorities about visitor visas and the prerequisites for obtaining visas before entry into Ghana.
Accra is home to a number of business hotels. There are several restaurants in Ghana that serve both local food and food from other countries. In addition to Uber and other well-known ridesharing services, taxis are readily available at the airport. Ghanaian Cedis can be purchased at the Kotoka International Airport, hotels, and some banks. There are many ATMs that accept foreign bank cards in Ghana's urban areas. A few hotels in Kumasi are up to business-class international standards, although there are many inexpensive to moderately priced lodging options elsewhere.
In 2022, as the government struggles to balance its expanding deficits and debt financing commitments, the nation is going through a period of the fiscal tightening. Ghana's chances for medium- and long-term growth remain positive, nonetheless.
With over 350 radio stations, over 120 television operators, about 250 newspapers and magazines, as well as active and expanding internet use and social media presence, Ghana has a thriving media landscape.
American businesses looking to do business in Ghana are advised to take the long view and give themselves plenty of time to get to know possible collaborators and forge connections that go beyond email and text messages. Companies from the United States who can send a representative to Ghana to meet potential partners, conduct site visits, and stroll through the busy streets will leave a good impression.
Ghana is fortunate to have a wide range of ethnic groups, each of which has its own culture and way of life. Akans (45.7%), Mole Dagbon (18.5%), Ewe (12.8%), Ga-Dangme (7.1%), Gurma (6.4%), Guan (3.2%), Grusi (2.7%), Mandi (2.0), and other (1.6%) make up the majority of the ethnic groupings. 90% of the population, which comprises less than 1% of non-Ghanaians, originates from neighboring ECOWAS nations. For more details, see the Ghanaian Census Data for 2021.
English is the principal language of education in every school and is also the language of commerce. Local languages are spoken by Ghanaians as well, and many are spoken fluently.
Ghanaians are renowned for their warmth and hospitality. They are also extremely religious, with almost 95% of them participating in formal religion. A little more than 71% of people identify as Christians, 19% as Muslims, 5% as indigenous or animist, while the remaining 5% are members of other religions or have no religious affiliation.
Although there are occasionally disputes between ethnic groups in rural areas, usually over who owns the land or who would succeed the traditional leaders, Ghana has long had peaceful political transitions after elections.
Economy
Ghana saw average yearly economic growth of around to seven percent in the three years before to the COVID-19 epidemic, making it one of the countries in the world with the quickest rate of expansion. Ghana maintained a growth rate of 0.5 percent in 2020 and recovered with a growth of 5.4 percent in 2021 despite the economic downturn brought on by the epidemic. However, the economy is heavily reliant on the export of raw materials including gold, cocoa, oil, and gas, making it susceptible to slowdowns in the global economy and falls in commodity prices. Over the following three years, GDP growth is anticipated to be higher than five percent on average.
The major contributor to Ghana's GDP is the services sector, which in 2021 accounted for 49% of the country's total output due to expansions in the ICT, health, and education service sectors, among others. The agricultural sector comes in second at about 21% of GDP, after the industrial sector, which accounts for 30% of GDP. About 45% of Ghana's workforce is employed in agriculture, primarily by small landowners.
In contrast to the $828 million in imports in 2020, a year that was impacted by the global economic slump, Ghana imported $983 million worth of goods from the United States in 2021. In 2021, the last year for which complete international data was available, China (23%), the United States (9%), India (7%), and Belgium (5%), along with the United Arab Emirates (4%), Canada (3%), and the United Kingdom (3%), were the top exporters of goods to Ghana.
In 2021, Ghana exported items worth $1.7 billion to the US. The top three exports from Ghana are cocoa, gold, and oil. China, Switzerland, India, South Africa, the Netherlands, and the United Arab Emirates are Ghana's main export destinations.
Additionally, both Ghana's imports and exports of services have increased dramatically in recent years; in Sub-Saharan Africa, Ghana's growth in service imports has been among the quickest. In 2020, Ghana purchased $12 billion worth of services from around the world and exported roughly $9 billion. Business service imports, which include computer and allied services as well as architectural/engineering, legal, accountancy, and advertising services, are the main driver of this increase. Other sectors of growth include freight services and inbound travel/tourism.
There are no exact numbers indicating what percentage of Ghana's $12 billion in service imports comes from the United States. However, we are aware that American businesses are vitally important to Ghana's services industry. U.S. ICT service companies are well-represented in the market. There are increasingly more Ghanaians studying in the US (an educational export for the United States). Last but not least, American companies that offer financial services, express delivery, logistics, consultancy/legal services, and businesses that supply services to Ghana's mining and oil and gas industries all play a significant role and contribute to American services exports to Ghana.
Ref: trade.gov