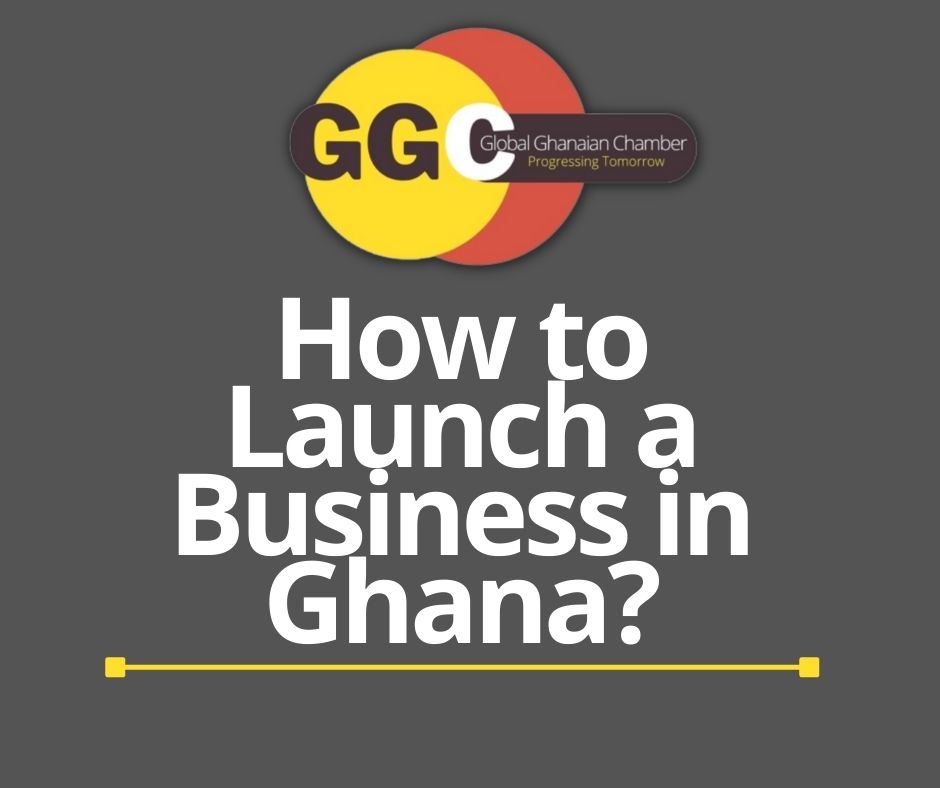 How to Launch a Business in Ghana?
 How to Launch a Business in Ghana?
How to Launch Your Own Business in Ghana There are no prerequisites for becoming a successful businessman in Ghana, thus everyone with entrepreneurial aspirations should be aware of this fact. To come up with a notion that may quickly become the next big business, one does not necessarily need a lot of experience in business, a lot of credentials, or even a lot of money in the bank.
One needs a strong business plan, though, and the drive to see it through. It is advised for someone who is sincere and wants to learn how to launch a business in Ghana to follow the instructions below.
Make a thorough self-evaluation of your upcoming business.
To begin with, it's critical to conduct some introspection and comprehend the driving force behind the desire to launch the firm.
This query ought to provide the aspiring entrepreneur with sound advice on the best kind of business to launch.
If someone only wants some additional cash, they could want to establish a side business, but if they want to build a long-term profitable company, they should dedicate themselves to it full-time.
The following step is to identify the precise type of business whenever there is a compelling cause to proceed with starting a business in Ghana. At this point I would inquire about the following as a businessman.
Respond to these inquiries first.
Do I possess the necessary skills to run the company?
Does the concept of the business ignite my passion?
Is this a field I have experience in?
With the awareness that most company concepts fail, how much can I afford to lose?
How much money do I require? Can I lift it up?
What kind of lifestyle am I planning to lead?
Am I prepared to run a business full-time?
I'll be brutally honest in my responses since, afterward, I'll have a firm foundation for all future business-related decisions I make.
Think of a good business idea
At this stage, I would ask myself, do I have a phenomenal business idea?
If I feel like my current idea is not unique enough to last a long period, I will look for ways to start brainstorming.
I'd try these things:
Ask me what new invention or technology will impact Ghanaians and how it will transform them.
Find a problem that needs a solution that concerns me already and convert it into a business idea.
Use my abilities to enter a new industry.
To improve an existing sound company idea, try coming up with better, more efficient, and less expensive alternatives.
At this point, my hunt for information on how to launch a business in Ghana would entail meeting new people and asking them questions, seeking their counsel, doing research from other businessmen, and gathering data from other trustworthy sources.
Make thorough market research.
Does anyone else already do what I want to start doing? There must be a good reason if nobody is. I would begin investigating prospective competitors and allies. Face-to-face and telephone communication would be the most suitable research approach at this time.
Since I would approach potential clients and ask for input on how well the service or good may be provided, questionnaires and surveys would also be very helpful.
In addition, I would like to hear what enhancements they would advise over the current goods or services. If I had done that correctly, I would have come a little bit closer to achieving my final objective in learning how to launch a business in Ghana.
Look for reliable testimonials
Once I have chosen a certain service or commodity to sell, I will allow people to engage with it appropriately in order to obtain constructive critique.
Typically, the first people to have meaningful interaction with a product end up serving as its brand ambassadors, especially when they enjoy the product and feel that their opinions are valued.
I've discovered that using prototypes to their fullest potential while pivoting and experimenting is the greatest approach to get feedback. Before I release and begin promoting the next product, I use the product as needed after receiving the right feedback.
In this manner, I will be able to consistently advance and so stay relevant. When I ask for help, I've also done study and discovered that I should be able to;
Take some time to absorb, respond to, and think about the input I have received.
Even to those who do not offer constructive criticism, be kind.
Any critique or detail, no matter how minor, should be looked into.
Work on the pattern of criticism. It will be worthwhile to pay attention to and take action on the feedback if I keep hearing the same thing repeatedly.
Engage the client while listening intently and keeping them in charge.
Pose inquiries.
Aspects of Ghanaian commercial law
Once I have completed the aforementioned processes, the next and most crucial step is to ensure that all legal aspects of the company are in order.
By doing that, I can stop worrying about someone else suing me for something I had no idea would happen.
According to what I've learned about conducting business in Ghana, each company needs to fulfill the following criteria.
Register the company with the Department of the Registrar General.
According to Ghanaian law, each business must complete the registrar's paperwork, which also act as the business's rules.
Furthermore, every company must have an auditor who is a registered member of the Institute of Chartered Accountants.
The auditor is expected to be impartial and to have no other obligations to the business. The process continues with paying the fees and receiving a Certificate of Incorporation, which is then followed by a Certificate of Commencement if all the paperwork has been correctly filled out.
Calculate the labor cost.
All labor and employment-related matters in Ghana are governed by the Labor Act 651 of 2003 (opens in a new tab). All legislation pertaining to employers, labor, industrial relations, and trade unions has been comprehensively consolidated by the Act.
I would also be interested in learning about the cost of labor when looking at how to launch a business in Ghana.
Every employer is expected to abide by the very clear definition of payment and wages included in the Labor Act. Every week for the unemployed worker and every month for the employee, earnings and salaries must be paid in legal cash.
Corporate Taxes
Depending on the industry in which a company works, Ghanaian companies are required to pay a variety of taxes. Only when profits are reported in audited accounts are they subject to taxation.
Additionally, the Income Tax Act 2015 (Act 896) (opens in a new tab), which replaces the Internal Revenue Act of 2000, provides income tax incentives (Act 5920).
The taxes that are applicable to residents are listed below;
Corporate tax is a 25% tax that businesses pay on their annual profits.
Individuals who are self-employed must pay personal income tax at one of four graded rates.
Pay As You Earn (PAYE) payments are typically withheld from employees' salaries so they can fulfill their income tax obligations.
Utilities
I discovered that Ghana has excellent access to energy, water, and telecommunications when doing research on how to launch a business there. Any type of startup can afford the fees.
Required bank account
A company needs a functioning bank account in order to perform effectively.
For the benefit of aspiring entrepreneurs from Ghana, the nation boasts a wide variety of banks with carefully thought-out bank accounts for various business types.
Copyrights, Patents, and Trademarks
Ghana wants businesspeople to register the aforementioned for all distinctive goods and services, just like any other nation in the world.
When it comes to issues relating to averting future commercial problems and disputes with rivals, this is quite helpful.
Prepare a strong business plan.
After carefully going through each of the aforementioned steps, the next step would be to lay out my goals in a business plan.
A business plan is, in essence, a written explanation of how a company is meant to develop from the time it first opens its doors until it establishes itself as a major brand.
A business plan should include;
An opening page Here I give a brief description of the company's name. The most alluring and straightforward name for the company that best fits the industry must be chosen.
A succinct summary All the finer points of the business are thoroughly covered in this part. This comprises the firm description, the primary issue the business plans to address, and the approach it will take to do so.
The company description is where I, as a businessman, describe the kind of business I want to create, how the market is now structured, and how I envision it will develop going forward.
Market strategy: In this section, I'll describe my target market and how I plan to dominate it.
The competitive analysis is where I'm meant to discuss the advantages and disadvantages of my rivals as well as how I plan to defeat them.
The design and development plan: In this section, I'll describe the service or product and how it will be made, as well as give a budget for it.
The business's daily operations and management are outlined in the operations and management plan.
Financing considerations: My plans for raising capital to keep the firm afloat.
It is crucial to allocate at least three pages to each element of the business plan in order to provide thorough explanations.
The business plan needs to be updated frequently as the company expands.
How to get business financing in Ghana
How to finance the business is one of the key challenges I need to deal with in my quest to learn how to launch a business in Ghana.
It is crucial for businessmen to continually think about using the funding strategy that is best for their particular company.
One of the many ways to finance a fledgling company is shown below.
Using one's savings as funding The nicest part about starting one's own firm is that when it does, the owner has complete control over its equity and future. This is because starting a business normally takes longer.
Make a pleasant grant request to friends and family: Friends and family are a great source for grants and forgiving loans that can be used as capital.
Request a business grant: Many organizations offer business grants to starting companies with the potential to grow and become well-known for the long-term operation of the firm.
Join a startup incubator: There are a number of these organizations that anyone wishing to launch a business in Ghana can benefit from. The nicest thing about them is that they provide very flexible interest rates and support by providing workspace, among other things.
Obtain a bank loan: This is the most typical manner that many companies are able to launch. Finding a bank that provides the most adaptable lending facility is crucial.
Create the product or service
The most crucial step after finding a funding source is developing the good or service. At this point, as a businessperson, I can confidently assess how the product is being received by potential buyers and learn what to improve so that, by the time it is released to the market, it will be prepared to go to the top.
Create a team
Finding a team to work on the production, marketing, and other areas would be the next step once the product prototype has been created, tested, and shown to work. The chosen crew should be competent and capable of comprehending the company's mission. I should adhere to all hiring procedures as a businessperson in order to assemble the greatest staff.
Determine the ideal site
The formal location of the company will be here, and depending on its type, it will either be an office or a warehouse. When it comes to accessibility, the business site should give all potential clients considerable consideration.
Can someone from outside Ghana open a business?
The Ghanaian government welcomes international investors as long as they follow the regulations. Many foreigners run enterprises in Ghana that have hired both skilled and unskilled employees.
How to launch a retail company in Ghana
In Ghana, starting a retail business will not be difficult for any businessman. The only things required are the money and the required licenses. Locals in Ghana are good customers for retailers, so if one capitalizes on their purchasing power with high-quality goods and reasonable rates, the company is unquestionably in a strong position to succeed.
Why is establishing a business in Ghana a good idea?
Ghana boasts one of the continent's fastest-growing economies and a large market for new businesses.
Given that a large portion of its population is young, it makes a suitable site for anyone looking to start a niche business.
Africa as a whole has also been cited in recent years as one of the world's most business-friendly continents, particularly with regard to ventures involving innovative technologies.
Types of Ghanaian company registrations
There are six different corporations that businessmen can register in Ghana.
Depending on the particular requirements of the business owner, different types of business registration exist.
Those are;
A minimum of two directors serve in this corporation limited by shares, which is registered with the Registrar's General Department.
The optimum corporate structure for non-governmental organizations is Company Limited by Guarantee.
Company Unlimited by Shares: A company that is registered with the Registrar's General Department and has at least two directors, one of whom serves as the primary shareholder.
A single person owns the business and all of its exclusive rights under a sole proprietorship.
External Company: This business was incorporated in Ghana with the goal of conducting business there.
20 people at most may register a firm as an incorporated partnership.
The paperwork required to launch a business in Ghana
Any businessman wishing to create a company in Ghana must have one of the following documents:
A passport biodata page,
A national ID card,
A driver's licence, or a voter ID card
Registration costs for businesses in Ghana
Depending on the sort of business, different costs are needed to establish up shop in Ghana. The difference is not substantial, though, and by requesting advice at the registrar's office, one may quickly learn the precise costs.
Be a part of Global Ghanaian Chamber- GGC to flourish your business…
by Bilal Ahmad Bhat